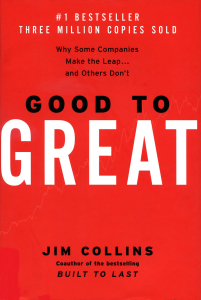 Subtitle: Why Some Companies Make the Leap… and Other's Don't
By: Jim Collins
Notes:
Good things stop great things from developing
Charismatic personality sometimes hurt the ability to get bad news
It's better to get the right people versus paying them more.
Self motivation is more important creating motivation.
Demotivating people is the mistake and should be monitored most.

Versus trying to motivate people.
Try to hear people.

Socratic style is important to engaging

Lead with questions, not answers

Don't place blame in an autopsy of past mistakes
Hire the right people / team first.
The moment you need to manage someone, they are not the right person.
Would you hire that person again? Would you be happy if they decided to leave.
Put the best people on the best opportunities.
Only spend time with people you love and respect, otherwise, your life will be terrible.
Create a do not do list to eliminate things I can't accomplish.
Must have a clear (hedge hog defensive) purpose.

We do collaborative investment research and analysis.

Email Jim Collins

Tell him I'm trying to implement his research on a link to my page.
Three steps to be great:

Passionate about
Can be the best in the world at
Underlying economic profit-per-x ratio (revenue per customers… Etc.)