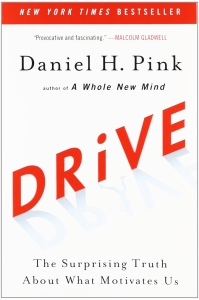 Subtitle: The Surprising Truth About What Motivates Us
By: Daniel H. Pink
Notes:
Intrinsic motivation is motivation in the absence of money.
Measure flow:

Take 40 random samples in a week.
When take goes off, measure what I'm doing, where I am, and happiness.

What is my sentence?
Research says that humans have an overwhelming need to change the world.

They also want to have control over how it's done.

Non-tangible awards have a great affect on creativity.

Student rankings across schools.
Breakdown by grades, activities, motivation, most improved, by subject, etc.
The other group is driven by money

Salaries must be fair and adequate.

What's fair? Enough money to make money a non-issue.
Pay more than average in the mrkt to attract talent, and reduce turnover.
Three words
Attunement:
Bouncy: how do you stay afloat in an ocean of rejection.
Clarity: value is where the person does not know there problem. You can help them to figure it out.
Inverse relationship between power and perspective.
More power equals less likely to take he other person's perspective.
Increase our power by ruing it. This is how you do it:
When you mimic the other person, you will get a huge advantage in a negotiation. Physical mimicking.
70% higher tips for the person that mimicked what the person said.
Ambiverts are people that are not strangely introverts or extroverts.
They ended up being the best sales people.
People in the middle know when to talk and when to listen.
Over weight their imposition and underweight the context.
Give people an easy offer to act and make it personalized.
The move effective pitches are invitations to collaborate.
Read the book call influence.
For job interviews, potential is more Important than experience.
So talk about our potential.
Pitch in story form is extrememly effective. Pixar picture is broken Down into six sentences.
Once upon a day
Every day
One day
This happens
That happened
The end.
Extrovert leaders are good for sluggish and bad employees.