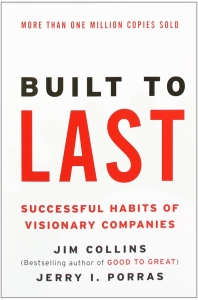 Subtitle: Successful Habits of Visionary Companies
By: Jim Collins and Jerry I. Porras
Notes:
Need core value that lasts beyond their mgmt.
Multiple CEOs without intrerruption in focus is a positive sign.
Leadership and mgmt should be the focus.
Focus on serving customers, not building fortune.
Slow business start is best, since fast starts don't teach companies how to scrape.
No great idea or leader is required.

Great ideas might be bad, because companies build a business around those ideas instead of developing a good culture.

Great companies start by tinkering. They are always innovating.
Detailed plans offer fail, b/c circumstances change.

Read: Johannes Van Mulkin (preussian general)

Put fences around people and you get sheep.
Build to Last – Principles:

Big Hair Audacious Goals (clear, attainable and challenging goals).

Helpful until they achieve the goal. Must replace with another.

Cult like cultures (great places to work for those that fit in).

Tightness of fit; training, special language

Tinkering and experimentation stimulates progress (MMM example)

Try it out, and quick
Accept that mistakes will be made
Lot easier to learn form a familiar
Give people the room they need
Make expectations known

Promotion from within
Good enough never is. Continuous self improvement.

Fail fast: If some element or product is not working, then cut it and more on.
Crawl, walk, run